EXFOLIATING SPUN SUGAR FACE MASK
PRODUCT DESCRIPTION:  Revive dull, tired skin to reveal a dewy, luminous complexion. Glycolic acid gently exfoliates without abrasives, while cranberry and raspberry seed oils feed the skin with essential nutrients, and witch hazel tones. Calling All Fairies also features a light spun sugar and berries fragrance that's out of this world. To use, apply a thin layer to clean face and neck, avoiding eye area, then leave on for 5–10 minutes. When you're done, rinse with warm water and moisturize to feel the magic.
---
I'm so excited to share with you the Calling All Fairies facial mask which I received in my last Perfectly Posh order. I had been anticipating its delivery since I ordered it about a week prior. I had been looking for a very gentle facial mask that would be safe for my girls to use with me for a fun spa night and  Calling All Fairies Mask intrigued me. The packaging is very whimsical and almost child like so just by looking at it I would guess it was geared toward the younger girls, after all, everyone needs some pampering right. The ingredients are natural and anti-inflammatory in nature so I felt confident that it would be a good choice. There is also no abrasive ingredients other than sugar which in my experience is the most gentle of all the exfoliants making it perfect for a variety of skin types.
Now, this mask is described as a sugar glycolic exfoliant, so I expected a slightly gritty or grainy texture, but to my surprise, it is silky smooth. The fragrance, Spun sugar and berries, is almost too mild for my taste but perfect for your pre-teen kiddos and anyone sensitive to strong scents. The goal for this mask is to remove the top layers of dead skin and reveal the healthy skin underneath, all beginning 1 to 3 minutes after application. Can it do it? Let's find out!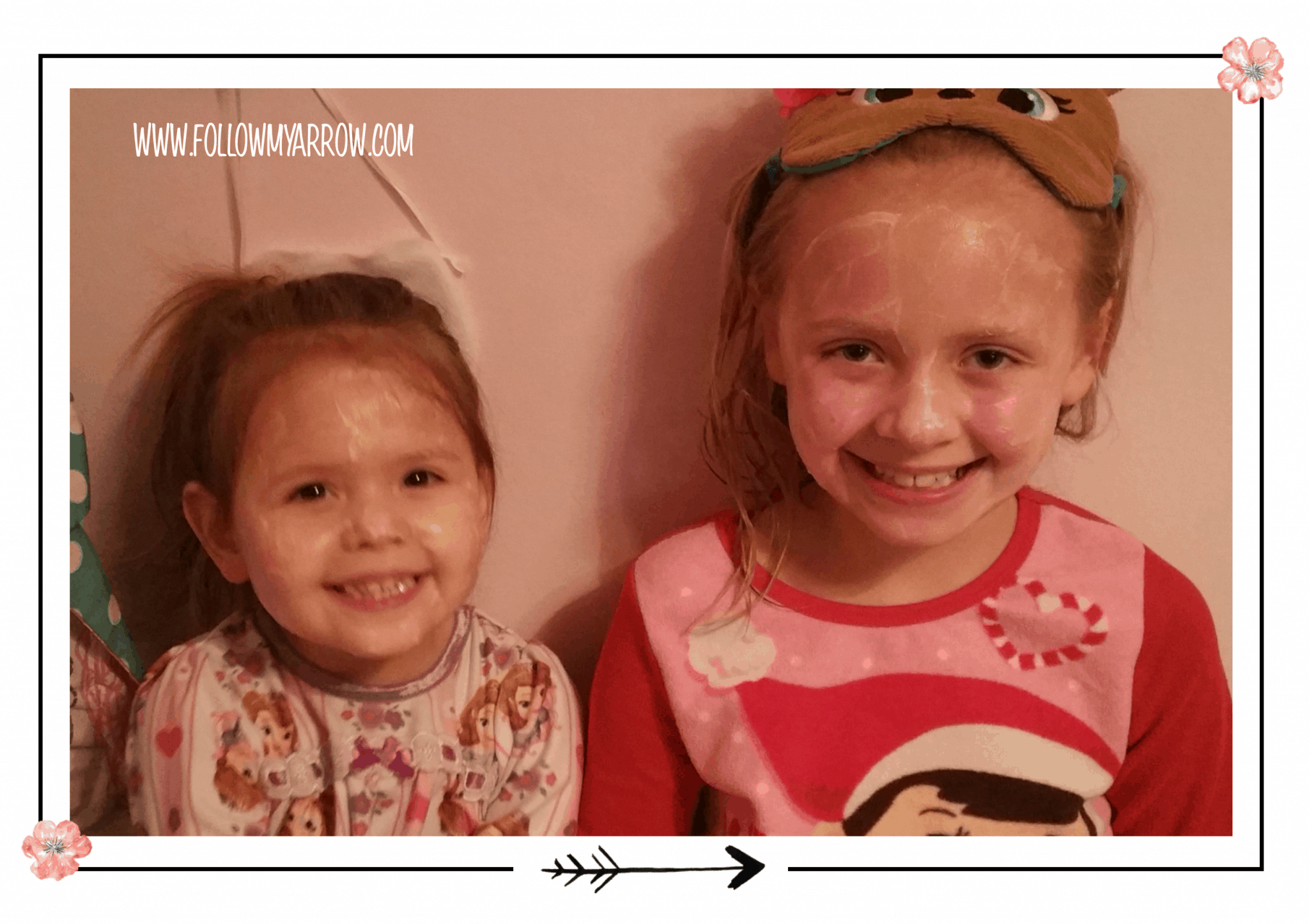 I was brave and let my eight-year-old and three-year-old test it out with me. I usually am the guinea pig, but the packaging design was so whimsical it must be geared toward a princess, so drawing my girls in was not hard at all and who can say no tho those adorable faces;) So, we each applied a thin layer over our face, avoiding our eyes and mouth. The mask has the consistency of a body lotion which had me checking the tube to make sure I didn't mistake what I had bought. Appling, it gives a nice cooling sensation, but that was fairly short lived turning into a warm tingle which I would assume was from the glycolic.  After about 5 minutes (the directions say 5-10 minutes) we washed it off with warm water and admired our smooth and tight feeling skin.  We were all VERY red in the areas we had applied the mask which had me a bit concerned especially on my kiddos but didn't bother them a bit. Again I would assume it was the glycolic acid causing it and am happy to report it resolved itself about 30 minutes later.  The last and critical step is to apply a heavy moisturizer. Don't skip this! Even thought the smoothness is oh so nice right after, your skin will be dry and to fully benefit from this mask, moisturizer is needed.
FINAL THOUGHTS:
While this product it not exactly what I had expected It worked well and did exactly what it claimed to do. It is non-abrasive yet still exfoliates very well. I do wish it had a bit more fragrance to make the application experience more "spa" like, though I would gladly purchase and use it again. As for using this for the kiddos, it was an excellent choice just be aware the redness is a typical reaction to the glycolic acid and will go away shortly after washing off. I would, however, suggest limiting the exposure to no more than 5 minutes on young or sensitive skin. My official review: It's a KEEPER!
Want to try it yourself? Looking for other Perfectly Posh products?
Follow the photo below⇓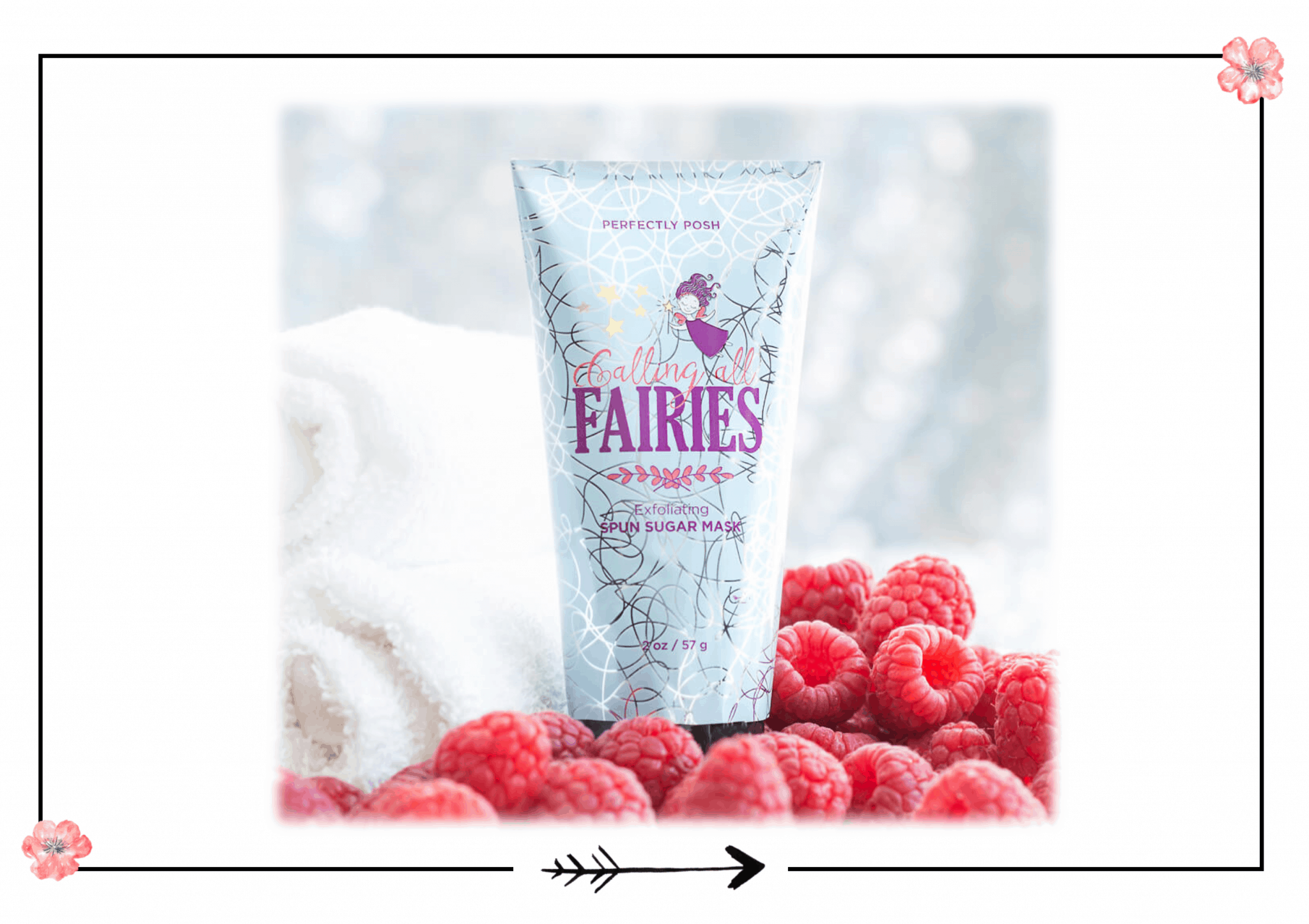 ---
KEY INGREDIENTS:
Allantoin is a natural chemical compound that moisturizes and soothes irritated skin and stimulates new skin growth, improving its texture. Allantoin is also an effective anti-inflammatory, can reduce redness and flaking, alleviate psoriasis symptoms, and is commonly used to treat burns, scars, and similar wounds.
Glycerin is a naturally-occurring compound comprised of vegetable oils or synthesized from propylene alcohol. It is a skin-identical ingredient, meaning it is found naturally in the skin and is readily absorbed. Glycerin is a potent humectant, which helps to reduce moisture loss, resulting in healthier, more natural looking skin.
Glycolic Acid is a naturally occurring fruit acid derived from sugar cane that falls into the alpha hydroxy acid (AHA) ingredient category. It is the safest, most common AHA and is used to gently brighten and non-abrasively exfoliate skin.
Palm Oil Lipids are commonly referred to as Ethylhexyl Palmitate. This ingredient is derived from palm oil and is used as an organic replacement to silicone as the texture is very similar. Palm Oil Lipids also have strong emollient properties and are mild on all skin types.
Witch Hazel Extract is an organic compound that helps to tighten pores and skin. This extract is astringent and contains beneficial antioxidants that help soothe and nourish the skin and defend against aging.
This post may contain affiliate links. For more information please see my disclosures
here.