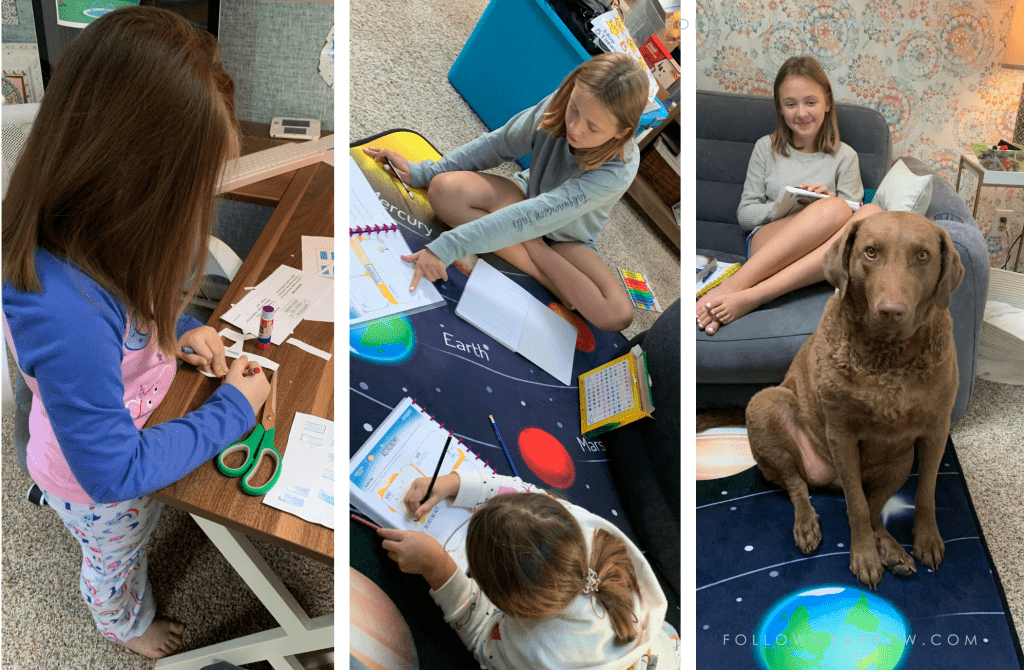 Yep, we made it! And dare I say this new homeschooler mom even enjoyed most of it. Though many of the factors leading to our ultimate decision were not pleasant (COVID and all), it did allow me to fulfill a dream that almost certainly would not have been an option otherwise.
When we all sat down last summer to weigh our options and look at the state of our community, homeschool was the safest and most consistent education option hands-down. But, and I mean a huge BUT, was it doable? Could I teach my girls, handle my workload, and hold on to my sanity? Amazingly, yes (most days), and am looking forward to a second year with my elementary-aged kiddo!
Since being rushed into the decision, I learned an awful lot in a short period. The trouble with this was the bits I missed, some important and some not such a big deal. Lucky for you, I'm going to share the top 5 things I learned during our first year of homeschooling so you can start ahead of the game and feel confident in your decision.
1.Get a digital planner.
This may seem odd to be listed first, but it is so important. Regardless of your curriculum, you will absolutely need this, and let me explain why.
Think about what you are taking on. A year's worth of paper records for one or more children terrifies me. What if I misplace something? What if I spill my coffee on something? Eek! I don't want any of that stress. How about grading, does manual sound fun? Not to me, and I'm going to guess that you'd prefer not to be forced down that road either. Thinking further, how about a transcript? Do you have all of your paper documents ready to be pulled out to gather the needed information to put that together? Ok, I'm stopping now because this is seriously giving me anxiety just talking about it!
My best recommendation for your sanity here is the Homeschool Planet planner.
I started about two weeks into our school year and am so glad I did!
This digital planner allows you to:
Automatically reschedules assignments
Home, school, and work schedules in one place
Plug-in lesson plans for popular curricula – both Teaching Textbooks and Math-U-See that we used were able to be pulled right in, magical!
Customizable grading, attendance, reporting, and more
Daily or weekly email reminders
An added bonus for me was being able to add in a student account so that my middle schooler could check her grades or confirm assignments had been completed at any time.
2. The type of curriculum you want to search for.
I am a huge fan of unit study, especially when you have more than one child to teach. When using unit study, all of the lessons have some type of connection to the unit you are working through. For example, we worked through the Space unit, and this included all subjects except for math in the curriculum that I purchased (I'll tell you more in just a moment). So, ELA, Science, Social Studies, and even Art all relate to the topic we are learning about, making all of the assignments so much more relatable than traditional busywork.
My best recommendation here is from Gather Round Homeschool, which also works in faith-based activities.
3. Keep a chore board for some life skills learning opportunities.
This was one of my favorite parts of having my girls home. Not just for the traditional chores we assign but to see them in a more real-world situation. So we had meal prep duties on Sunday, took turns on breakfast and lunch duties during the week, laundry loads run throughout the day, things that will be required of them when they are on their own. I called this an independence development class which seems to make it less like "typical" chors to my girls and more a lesson. I'll take it!
My best recommendation is the Homeschooler's Chore Board I developed and is exactly what we use. It will be included in this year's Ultimate Homemaking Bundle offered by Ultimate Bundles beginning on July 14th, 2021 so if you'd like to grab it during that sale, be sure to signup here for notifications.
4. Have some supplies on hand. You don't need everything but here are my suggestions.
Cricut. It's essential, in my opinion. This again may seem like a strange item to have listed, but I can tell you that without it, our year would not have gone as smoothly. Think flashcards, wall hangings, as well as different craft projects. Keeping my examples along the space them, during that unit, we used the Cricut to cut the pieces need to assemble our very own paper solar system. That was easily one of the best projects of the year! You can find some great deals here!
Laminator. You'll be amazed at how many items you'll want to reuse or need extra durability, especially if you'll be printing your curriculum as we did. We disc bound all of our books, giving the front and back covers a run through the laminator first, and was extremely happy with the outcome. This is the one I recommend here.
5. For some science fun, MEL Science is my favorite subscription box to bring the smiles.
These include a monthly experiment and are truly amazing. I love the fact that they have categories by both age and area of study. It makes it very easy to incorporate a general option that will work with younger or various ages; you can go for a specific series and maybe focus on just physics with your high schooler. You can find more information about them here.
I could probably go on for another five or ten tips but honestly, these are the most valuable from our experience. Homeschooling is so very different than a traditional school, you need to give yourself grace and remember that fact. I can't say that I am opposed to either path, personal circumstances and personalities will most likely help guide you in the best path for your child if you are open to both as I am. Here's to a new adventure!