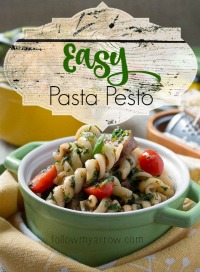 I'm terrible about planning dinner ahead of time. Even in the morning I struggle to pull something out of the freezer so that it will be thawed by dinner time. Today I am going to share with you one of my many last-minute pull together meals, Pasta Pesto with Italian sausage. This recipe literally came together by random things I had in the fridge and pantry as well as what I could thaw fast from the freezer! Amazingly enough it has become one of our favorite dishes!
What you'll need:
1 box of noodles (Rotini or Farfalle work well but any type will work)
1 jar of pesto sauce (I use Classico)
1 tube of Italian sausage (Bob Evans is our go to)
1 – 2 cups cherry tomatoes (any small sweet tomatoes you have will work)
1 block parmesan cheese (if I'm running short on time I will use pre-shredded)
Cook noodles according to package.
Brown Italian sausage.
Shred parmesan
Quarter cherry tomatoes.
Add about 1 cup of parmesan cheese to the warm noodles and allow to melt.
Mix the pesto and Italian sausage together first and then add to the noodles.
Add in the quartered cherry tomatoes and toss lightly. Place in a serving dish and enjoy!
I like to serve with a sprinkle of parmesan on the top as well. You can never have too much cheese:)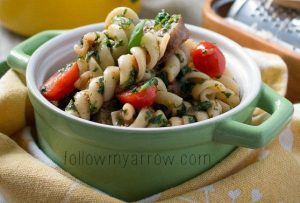 I have also done this with sun-dried tomatoes, peppers, and even stewed tomatoes. Your fridge and pantry is your limit!