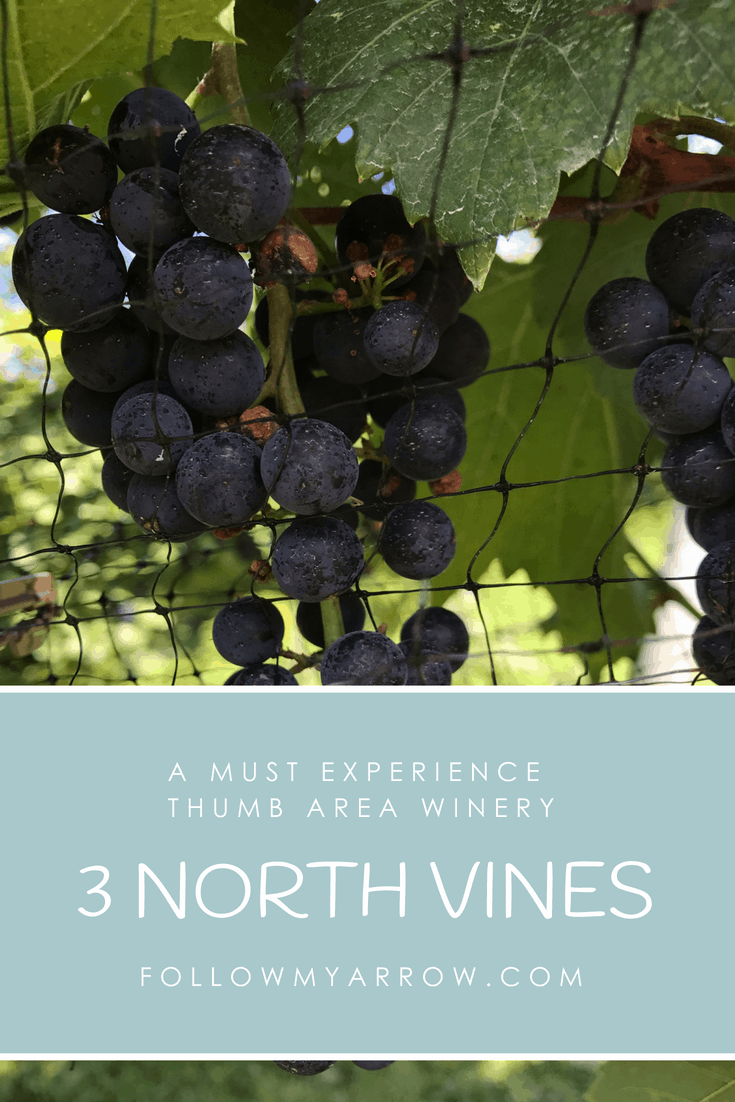 What do we do after apple picking? Wine tasting of course at 3 North Vines!
Somehow a few years back we managed to start working in a visit and tasting at 3 North Vines into our annual apple picking? tradition. We stumbled on this gorgeous vineyard completely by accident while making the trip from McCallum's Orchard to Lexington. They are perfectly situated right on Peck road in Croswell and only minutes from downtown Lexington.
It is owned and operated by the Shopbell's. Kristi and Nate are the most delightful and laid back hosts with family a priority. You will see this by the appearance of their kiddos from time to time as well as the "watch" cats roaming the grounds.
Since I have had the pleasure of this annual visit, one of my favorite things has been being able to see how they have grown from year to year. The tasting room has slowly expanded inside and out as has the wine list with each new harvest. It is so awesome to see all of their hard work crafted into such a unique experience for their guests. We thoroughly enjoy ourselves each time we visit, with or without the kiddos!
What you can expect…
Their tasting room is just steps from the vineyard where you can experience a variety of their wines and browse over the unique gift items and cutest little trinkets, most available for purchase. My personal wine favorites from this visit were the Fool Me Once – Semi-Sweet Blush and Raspberry Mango Sangria ? which is only available by the glass, so you're going to have to stop by for a visit if you want to try it? Add a cheese tray or chocolate pairing for even more excitement!
While sitting on the patio, you are surrounded by rows of vines. The view is breathtaking alone but paring it with the fact you are also sipping on wine created using grapes harvested from those very vines, astounding. Can I also just mention the fabulous rocking chairs! These chairs are the most comfortable outdoor rocker I've ever experienced! Consequently, I could seriously consider napping in one! Or maybe yoga on the patio, yes ma'am, they have that too!
All in all, I can't say enough about 3 North Vines. I have been impressed each and every visit, from the atmosphere right down to the wine. This small family business is a must experience for any wine enthusiast or family looking for a unique thumb area excursion!
https://www.facebook.com/3NorthVines/videos/1103362566434730/
Love the family bottling action this year! ☝☝☝
You can follow them here??????
https://www.3northvines.com/ https://www.facebook.com/3NorthVines/
Visit them at: 5940 Peck Road, Croswell, MI 48422
You can read about our apple picking experience at McCallum's Orchard here!