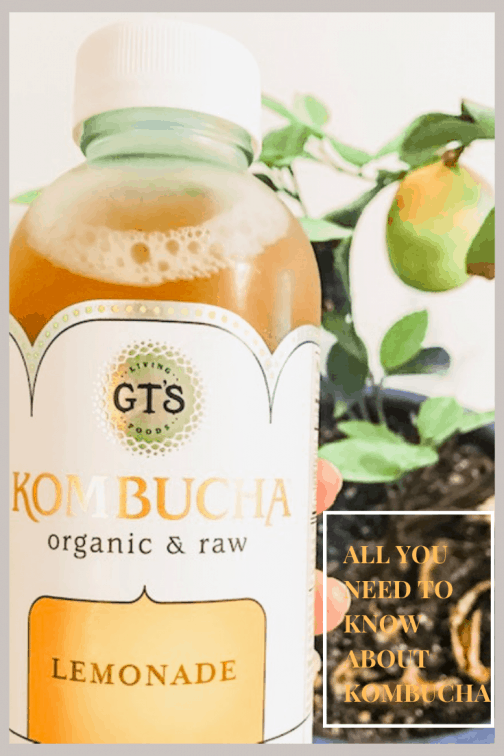 Kombucha
You may have heard of it but aren't quite sure what it is right? Well, I am here to tell you all that I know about Kombucha and how I came to love it!
First things first
Kombucha is a fermented green or black tea that is slightly alcoholic. Now don't worry you won't get tipsy drinking Kombucha but, it is essential to know that there is a minimal amount of alcohol in Kombucha due to the fermenting process. Kombucha that you buy at the store will say "non-alcoholic" because it contains less than 0.5% of alcohol.
So, the process of making Kombucha is done by fermenting sugared green or black tea using a symbiotic culture of bacteria and yeast also known as SCOBY. During this process a mushroom-like film forms on the surface of the Kombucha, this is why you may have heard of it referred to as "mushroom tea."
Now that I have grossed you out you want to try it now huh!
Health benefits of kombucha
Now, there are an array of health benefits that go along with Kombucha! For one, it has the same health benefits as drinking a cup of green or black tea. Two, and my most favorite, it is rich in probiotics! This means, kombucha is great for gut health and can improve digestion, inflammation and even weight loss. Kombucha contains antioxidants and can kill harmful bacteria in your body. You can reap all these benefits by just drinking a bottle of Kombucha! Now, that sounds great to me!
What does Kombucha taste like?
You might be wondering how kombucha tastes. Well, it is not for everybody. I'll say that right now. I think everyone should try it, and when I say try it, I mean don't just take one sip and say " I don't like it, I don't like it" with the gross face emoji. You need to take a few sips and let your taste buds get used to it. It's an acquired taste, and it's not like anything you may have tried before. It took me some time to get through my first bottle, but that's because it was something new and different. It has a sour-sweet taste to it. I didn't hate it; it's just a different type of drink. And yes, there will be some probiotics resting at the bottom of your bottle. Don't shake it and open it right away. It will explode all over you. I am a victim of this! Lol. Lightly rock your bottle up and down and then slowly open it, so you don't have an explosion on your hands.
Kombucha Flavors!
Flavor variety may be what saves some of you! There are a ton of Kombucha flavors! You can choose any flavor that piques your interest! You might love one flavor of Kombucha and hate another. That's okay! That is part of the fun, and you get to experience new flavor combinations and see what works for you. So, if you don't like the first bottle of Kombucha you try, Give it a second chance and try a different flavor next time. Then if you really can't get into it. That's okay Kombucha might not be for you. My sister Sydney can't handle the probiotics resting at the bottom of the drink. Mentally, it just grosses her out. But you don't have floaties in your glass as you backwashed. Haha. It's not that bad!

My Favorite Flavors!
My go-to brand of Kombucha is GTS Living Foods. It's the one my friend Julia, who got me drinking Kombucha recommended. My favorite flavor has to be Lavender Love. It's smooth and delicious, and I get so excited when I find that flavor. Before it was so hard for me to find, but now my local grocery store down the road has a vast selection of GTS flavors, and I can get it all the time! Another one of my favorites is Lemonade. This is great to drink on a warm summers day when you're at a BBQ, and you want a healthier version of that sweet lemonade everyone is passing around. Some other great flavors that I have tried are Trilogy, Gingerberry, Multi Green, Pink Lady Basil, Mystic Mango, and seasonal flavors. I try to get a new Kombucha each time I buy them. Sometimes, it's hard to stray from what you know you like. If you want to know their top flavors and a little more about their Kombucha, I found a great article at thekitchn.com.
A few tasty flavors to start with if you haven't tried Kombucha before are Gingerberry, Lavender Love or the Trilogy. I began with Gingerberry, and I liked it. Sometimes at Fresh Thyme, they have sales on GTS Kombucha where you buy one, get one free or 2 for 6! These are always happy days for me. You can go one GTS Living Well's website and see where it's sold near you!
A great alternative to alcohol!
So, I dabble in the Whole30 program, and I am currently on my second round! Woohoo! Lol. On this program, you aren't supposed to drink alcohol, boo for me. I love my wine. An excellent alternative for me is Kombucha! Yes, there is a minimal amount in it, but that is okay! It's not why I drink it. Come on guys give me some credit! Lol. Kombucha has become a significant part of girls night with my friends and I. We are all trying to get fit for my sister's wedding coming up in August, so we subbed out the wine for Kombucha! It's something different and more fun than flavored water or regular tea. We get fancy and put our Kombucha in a wine glass and chat away! Haha. It's much easier to pretend it's a glass of wine that way. But in all seriousness, it's a great idea! You don't feel like you are missing out and you are drinking something that is good for you and tastes great!
Going out? No problem!
Lots of breweries and restaurants are adding Kombucha to their Menu! Do a little research and see what establishments offer Kombucha and see if your friends would like to go there! They can get their alcoholic beverage of choice, and you can get a nice glass of Kombucha! Win, Win! In Grand Rapids, where I live, there are quite a few places that offer it on their menu. So, it makes going out for a drink with friends a little easier. I know this may not be the case for everyone.
In Grand Rapids, there is a Kombucha Bar! My friend Sarah just told me about it, and my mind was blown! I couldn't believe I hadn't heard of this place before. It's called Sacred Springs Kombucha, and they craft organic sound infused kombucha in Jenison, MI. They offer draft kombucha at their taproom in Grand Rapids as well as flights! How cool is that? You can also buy their bottled kombucha!
Sacred Springs Kombucha in Grand Rapids is having their first Kombucha Fest May 18th! You better believe that I will be there! The festival will go from 11:00 am to 6:00 pm. There will be a Kommunity Kombucha Brew, a home-brew competition, and a large selection of kombucha for sampling. How fun does that sound!? I can't wait. If you live in GR, I would definitely check it out! It can get your kombucha juices flowin'.
So, go out today buy a bottle or two and give 'er a try! Really feeling it? You can make you own right at home! Check out the super easy starter kit here.
Let's talk!
Did you like the kombucha you tried!?
What flavor did you have?
Check out this delicious Lemonade Prosecco Punch too!
Love it? Share it!